Age

27

Birth Date

12/14/1988 (Sagittarius)

Height

5' 6" (168 cm)

Weight

114 lbs (52 kg)

Eye Color

Black

Hair Color

Black

Occupation

Dentist

Education

Medical school

Religion

Not Religious

Marital Status

Never married

Children Drinking

Never

Smoking

No

English
Speaking Skills*

Not Set

Other languages Residence

Guangxi, China

* The level of English
is evaluated by the Lady herself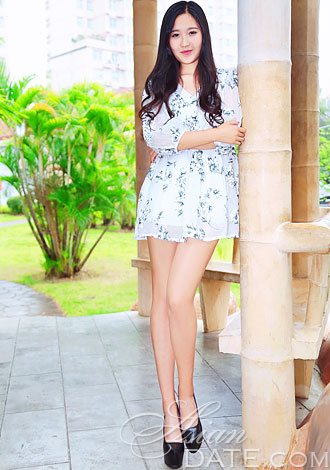 Her Type of Man
No matter how and when we meet... Hope we can share life with each other, hand in hand!!
Character
I am a enthusiastic girl with lively and easy going! So I always can hamoney with my people aroud me. It ofen have a lot of ideas come up my mind and that make me laugh uncontrollably. I always think everything have the positive side even the bad things. I am a quiet girl when i work, but sometimes i will crazy for something i love. I fond of art, dancing. i hope i have a chance dance with you.
Interests
I like traveling around the word and i like some fresh and different things and also enjoying making different friends in different countries. I am fulled of passion to do some interested things with my hands. As a dentist as I am, i am patient and my heart is fulled of love. I like spending time outdoor, doing some sports like swimming and playing baminton with my family and friends. And my favorite thing is singing. I like singing, Chinese songs, English songs. No any problem.