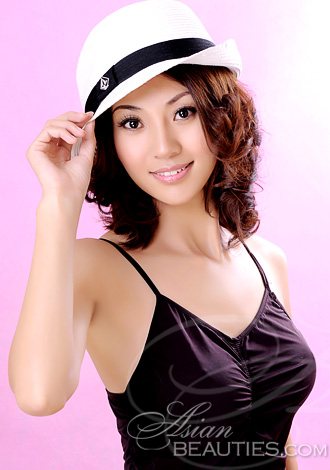 Age

33

Birth Date

4/16/1982 (Aries)

Height

5' 7" (170 cm)

Weight

105 lbs (48 kg)

Eye Color

Brown

Hair Color

Black

Occupation

HR manager

Education

College degree

Religion

Not Religious

Marital Status

Never married

Children Drinking

Socially

Smoking

No

English
Speaking Skills*

Intermediate

Other languages Residence

Beijing, China

* The level of English
is evaluated by the Lady herself
Her Type of Man
I am looking for a serious relationship. I hope you are a good hearted man, humorous, positive and faithful, if you are the one just like me looking for a partner of life ?
Character
I don't want to describe myself as perfect, cause I am not perfect, and I just want to find a normal man to love and to be loved. I do realize it is the beauty a woman has in her heart, her character, her soul, her devotion, caring, dedication, loyalty, integrity, trustworthiness & especially her UNCONDITIONAL LOVE that are most important along with her ability to love me even despite my flaws & imperfections. I like talk and exchange opinion in a good relationship cause communication is always useful when we have problem , and age is not big problem, maybe older man is more caring and know how to care a woman .
Interests
I like to have fun, laugh a lot sometimes but I can be serious when it needs to be. I like to go out for coffee/tea/drink, dinner, movie, concert, shopping and hiking...I also like to stay in when it is cold/rainy outside...read a online book or watch a online movie...