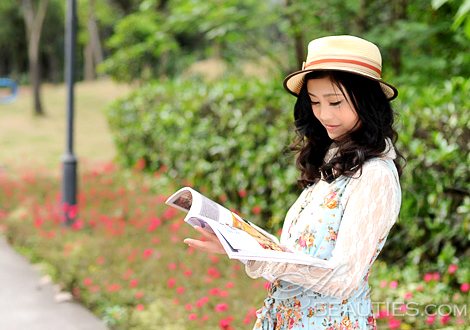 Age

25

Birth Date

2/19/1990 (Aquarius)

Height

5' 3" (161 cm)

Weight

110 lbs (50 kg)

Eye Color

Black

Hair Color

Black

Occupation

art editor

Education

University degree

Religion

Other

Marital Status

Never married

Children Drinking

Occasionally

Smoking

No

English
Speaking Skills*

Intermediate

Other languages

Chinese

Residence

Chongqing, China

* The level of English
is evaluated by the Lady herself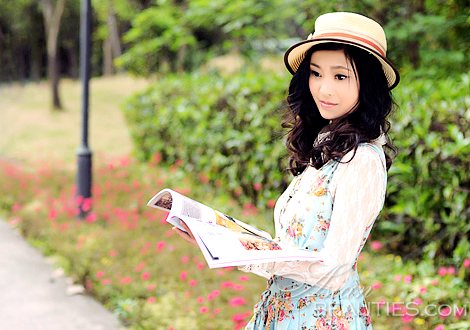 Her Type of Man
I am looking for a man who is honest ,mature and know how to take care of his girlfriend. I want my love to be happy and romantic. I wish you are a man who is humorous and know how to make our life and love romantic . I wish you have a lot of good hobbies so that we can do many things together. And I want you will understand me and we can share our happiness and sorrow each other.
Character
i am a twenty-two years old chinese girl. my character is both traditional and extrovert. it depends who i am with.i may not speak too much when i meet you at the first time. however, if i find you are my type or you can be my friend, i will be very happy to talk to you and trust you completely. however, i am polite and gentle to everyone. i do not want to make others feel embarrassed or annoyed. i have ever been working as a sales so i know how to be sociable and i know how to deal with people in social occasion.i want a happy family belongs to my honey and i.
Interests
i like many many things and i have a lot of dreams.in weekdays i need to work. after work i may go shopping or go to watch a movie with my friends. when at home alone, i like reading a good book, or watching TV, or cooking some good food for myself and my family. in weekend, i like go out for a walk, maybe in a park or climbing a mountain.i also like singing and dancing in a bar. and i like wine.