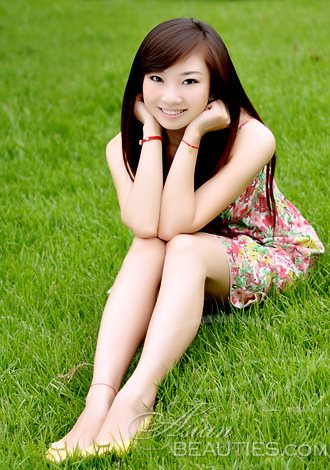 Her Type of Man
I'm looking for a soul mate who can be not very handsome, very rich, but he must be friendly, heartily, motivated, loyal, responsible, and he should have a stable job. Most important, he must love me, as well as my family.
Character
I am outgoing, passionate, optimistic, and active. I am a typical Taurus girl, who has a strong organizational skills, and who is a little bit subjective and self-centred. However, I respect the people around me, I accept their criticism and suggetions.My life is very simple. It's a regular schedule from Monday to Friday. I often get up at 7 and go to bed before 11 , because I don't want to affect my work the next day. And when I am free, sometimes I meet friends, eating outside, shopping or watching movies, or I will just stay at home to watch TV.I like simple life. I think the most important thing for two people to get along with each other is communication. I hate quarrel. If everything will be solved by discussing, quarrel is meaningless.Home is important to everyone. what I am looking for is a warm and comfortable one. There's someone who is kind, responsible and filial. He loves and respects me.
Interests
I like making friends, and I always think that friends are very important to everyone, so I will respect all the friends of my future soulmate. Love me, love my dog, so I should also be their friends. And I like travel. When I was in holiday since these two years, I always went out for a travel, to relax and to broden my horizen. I like to go to a beach, which is with fresh air, bright sunshine, and clear water. It's a romantic thing that I can walk along the beach with the one I love, and see the sunrise and sunset.